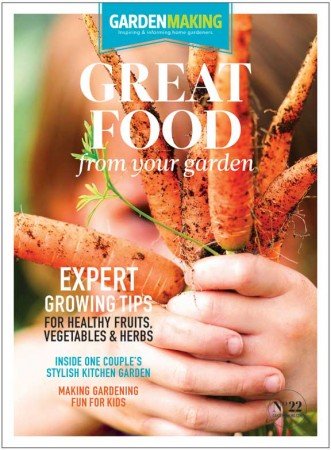 The new issue of Garden Making, No. 22,  features Great Food From Your Garden.
"For this summertime issue, we decided to focus on growing edibles, because we think they're the linchpins to the pleasures of a home garden," says Garden Making Editor-in-Chief Beckie Fox. "After all, gardening keeps us healthy, and homegrown fruits and vegetables do, too."
You'll discover lots of expert growing tips for healthy fruits, vegetables and herbs in the issue. Some of the articles include:
Grow pop-in-your-mouth cherry tomatoes.
Rhubarb makes a grand entrance in the spring.
Foraging can result in a culinary cornucopia.
How to get the best from your basil.
Choosing a fruit tree.
Savour homegrown herbs year-round with easy preserving methods.
A profile of a stylish and productive kitchen garden in Ontario's Northumberland Hills.
Simple, fun ideas to cultivate a child's interest in gardening.
The issue is on sale at Chapters' stores, Shoppers Drug Mart and other retailers with gardening magazines, as well as selected garden centres. You can order one or more copies with free mail delivery or start a subscription to Garden Making with this issue.