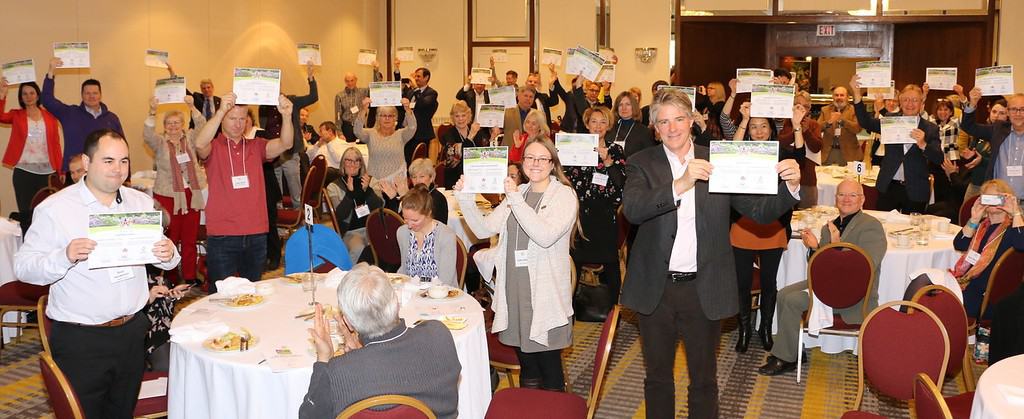 It's Canada's 150th birthday, so the Canadian Garden Council in collaboration with the Canadian Nursery Landscape Association have awarded 150 "Canada 150 Garden Experience" designations to highlight the role of gardening and gardens in communities across Canada.
"Canada has a long-standing garden culture," says Alexander Reford, president of the Canadian Garden Council. "From First Nations gardens that were here long before settlers arrived, to the enormous variety of gardens that every culture has brought to this country since Confederation, gardens – from modest kitchen and community gardens to celebrated botanical and public gardens – have played a role in defining and developing our Canadian aesthetic and quality of life."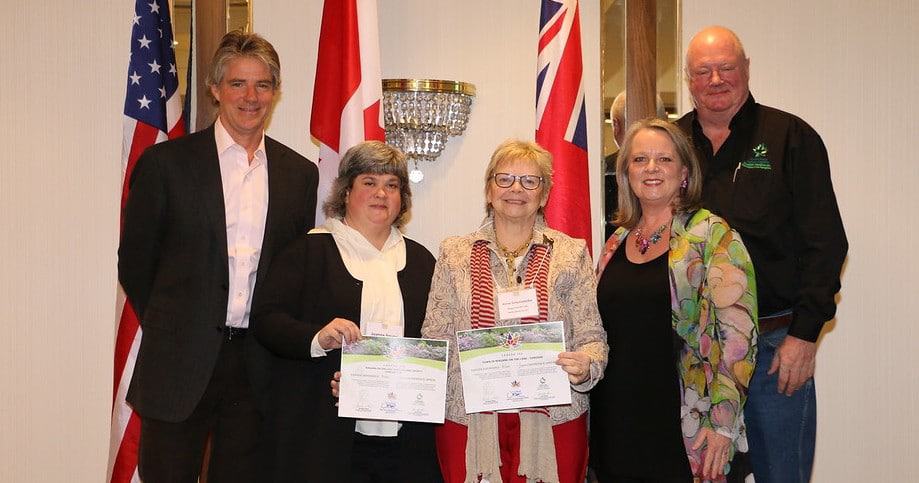 British Columbia 
Abbotsford Tulip Festival, Abbotsford
The Butchart Gardens, Brentwood Bay
Minter Country Gardens, Chilliwack
Kitty Coleman Woodland Gardens, Courtenay
Milner Gardens and Woodland, Qualicum Beach
Phoenix Perennials and Specialty Plants, Richmond
Tofino Botanical Gardens, Tofino
Dr. Sun Yat-Sen Classical Chinese Garden, Vancouver
UBC Botanical Garden and Nitobe Memorial Japanese Garden, Vancouver
Vancouver Cherry Blossom Festival, Vancouver
VanDusen Botanical Garden, Vancouver
Abkhazi Garden, Victoria
Government House Gardens, Victoria
Royal Roads University and Hatley Park, Victoria
St. Anne's Academy National Historic Site, Victoria
The Gardens at the Horticulture Centre of the Pacific, Victoria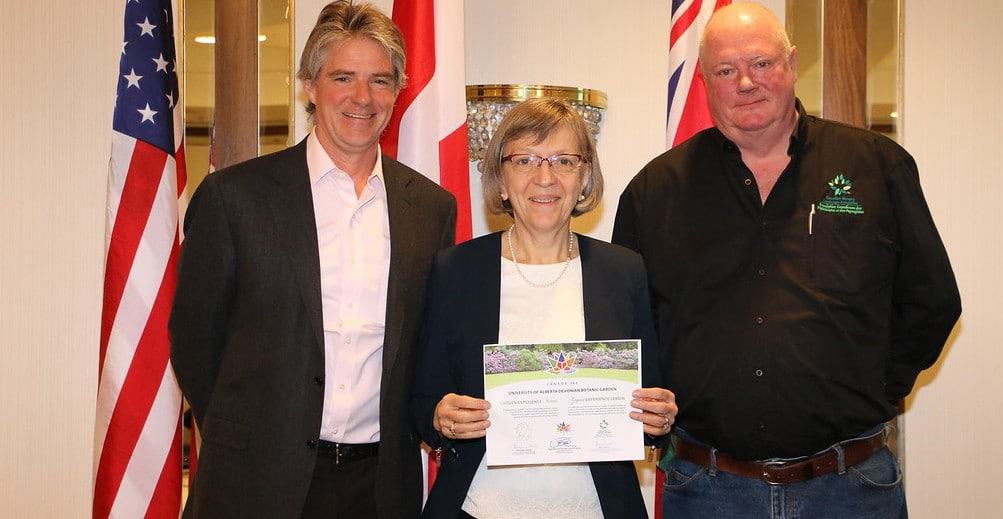 Alberta
Banff National Park Gardens, Calgary
Central Memorial Park, Calgary
Dorothy Harvie Gardens, Calgary
Reader Rock Garden, Calgary
Muttart Conservatory, Edmonton
University of Alberta (Devonian) Botanic Garden, Edmonton
Nikka Yuko Japanese Garden, Lethbridge
Olds College Botanical Garden and Wetlands, Olds
Parkland Nurseries and Garden Centre, Red Deer
Red Deer & District Garden Club Events, Red Deer
Greenland Garden Centre, Sherwood Park
St. Albert Botanic Park, St. Albert
The Enjoy Centre, St. Albert
Coutts Centre for Western Canadian Heritage Gardens, Willow Creek
Saskatchewan
Queen Elizabeth II Gardens – Wascana Centre, Regina
Patterson Garden Arboretum – University of Saskatchewan, Saskatoon
Saskatchewan Perennial Society – Garden Tours, Saskatoon
Sonja Pawliw Healing and Meditation Garden, Yorkton
Manitoba
International Peace Garden, Boissevain
Shelmerdine Garden Centre Ltd., Headingly
Assiniboine Park Conservancy – Gardens, Winnipeg
Assiniboine Park Conservancy – HerbFest Winnipeg
The Forks – The Prairie Garden, Winnipeg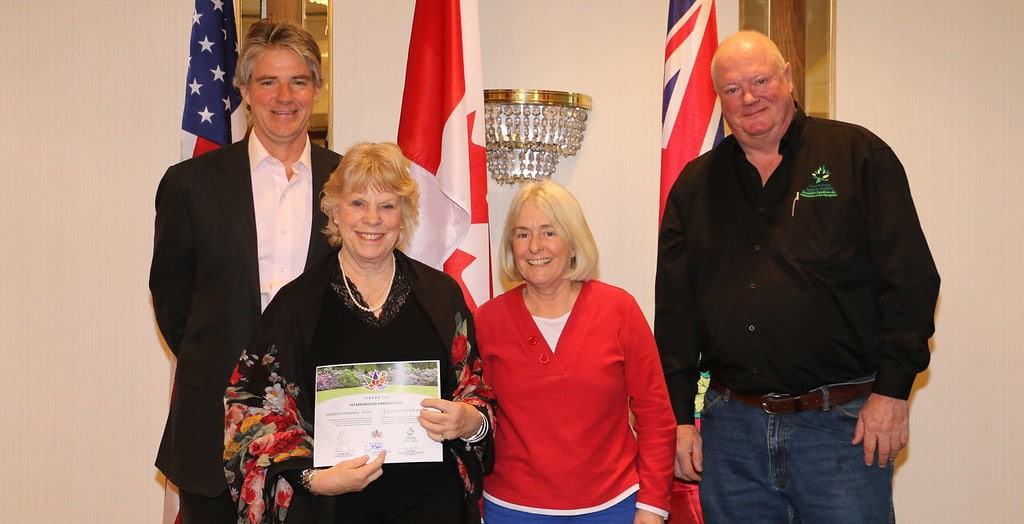 Ontario
Amherstburg's Gardens, Amherstburg
City of Barrie – Gardens, Barrie
City of Brampton – Gardens, Brampton
1000 Islands and Rideau Canal Garden Trail, Leeds Grenville
Royal Botanical Gardens, Burlington
Plant Paradise Country Gardens, Caledon
Sheridan Nurseries, Georgetown (head office) locations across Ontario
Keppel Croft Gardens, Georgian Bluffs
Town of Goderich – Gardens, Goderich
The Guelph Enabling Garden, Guelph
University of Guelph Arboretum, Guelph
University of Guelph Trial Gardens – University of Guelph, Guelph
University of Guelph Trial Gardens – Landscape Ontario, Milton
Dundurn Castle – Historic Kitchen Garden, Hamilton
Bellevue House National Historic Site of Canada – Gardens, Kingston
Sifton Bog, London
The Flower Lady, London
Rideau Woodland Ramble, Merrickville
Terre Bleu Lavender Farm, Milton
The Riverwood Conservancy Enabling Garden, Mississauga
Niagara Parks Botanical Gardens and School of Horticulture, Niagara Falls
Niagara Parks Floral Showhouse, Niagara Falls
Niagara-on-the-Lake Horticultural Society – Garden Tour, Niagara-on-the-Lake
Town of Niagara-on-the-Lake – Gardens, Niagara-on-the-Lake
Gardens of North Bay Heritage Gardens, North Bay
Black Creek Pioneer Village – Gardens, North York
Through the Garden Gate Private Garden Tour and Get the Jump on Spring events, Toronto Botanical Garden, North York
Oshawa Valley Botanical Garden and Peony Festival, Oshawa
Parkwood National Historic Site & Heritage Gardens, Oshawa
Canadian Tulip Festival, Ottawa
Maplelawn Garden, Ottawa
Ornamental Gardens – Central Experimental Farm, Ottawa
Rideau Hall Gardens, Ottawa
Taiga Garden – National Gallery of Canada, Ottawa
Peterborough Garden Show, Peterborough
Canadale Nurseries and Garden Centre, St. Thomas
Stratford Festival Gardens, Stratford
Stratford Garden Festival – Ontario Lung Association, Stratford
A.M. (Mac) Cuddy Gardens – Fanshawe College, Strathroy
Sudbury Gardening Festival, Sudbury
SpindleTree Gardens, Tamworth
Prince Arthur's Landing Spirit Garden, Thunder Bay
Allan Gardens, Toronto
Canada Blooms, Toronto
Casa Loma Gardens, Toronto
Centennial Park Greenhouse – Mum Show, Toronto
Fred Urquhart Memorial Garden – U of T Scarborough Campus, Toronto
High Park, Toronto
Moss Park Community Garden, Toronto
Mount Pleasant Cemetery, Toronto
Plant World, Toronto
Rosetta McClain Garden, Toronto
Spadina Museum: Historic House and Gardens, Toronto
Toronto Waterfront Music Garden, Toronto
The Franklin Children's Garden, Toronto Island
Vineland's Millennium Forest, Vineland Station
Warkworth Lilac Festival, Warkworth
Whistling Gardens Botanical Gardens, Wilsonville
Coventry Gardens, Windsor
Sipkens Nurseries Ltd., Wyoming
Québec
Les Hemerocalles de L'isle, Becancour
Rose Drummond, Drummondville
MosaïCanada 150 – Gatineau 2017, Gatineau
Jardins de Métis, Grand-Métis
Jardins de Métis – La Festival International de Jardins, Grand-Métis
Parc Marie-Victorin, Kingsey Falls
Jardin Scullion, Lac-Saint-Jean
Centre de la nature de Laval, Laval
Les Jardins de Doris, Matane
Route des Gerbes, d'Angelica Mirabel
Château Ramezay – Jardin du Gouverneur, Montréal
Le Domaine a l'Heritage, Montréal
Jardin botanique de Montréal, Montréal
Maison Saint-Gabriel – Le jardin de la Métairie, Montréal
Jardin botanique Roger-Van den Hende, Québec City
Jardin Jeanne d'Arc, Québec City
Les Jardins du Grand-Portage, Saint-Didace
La Maison Lavande, Saint-Eustache
Jardin Daniel A. Séguin, Saint-Hyacinthe
Morgan Arboretum, Sainte-Anne-de-Bellevue
Jardins de la Maison Antoine-Lacombe, Saint-Charles-Borromée
Domaine Joly-De Lotbinière, Sainte-Croix
La Seigneurie de L'ile d'Orléans, St-François
Jardin de la Petite Ecole, Témiscouata-sur-le-Lac
Les Jardins Vivaces de Fernand, Westbury
New Brunswick / Nouveau Brunswick
Irving Arboretum, Bouctouche
Cornhill Nursery, Cornhill
New Brunswick Botanical Garden, Edmundston
Kingsbrae Garden, St. Andrews
Kingsbrae Garden – Indulge Festival and Live Lady Bug Release events, St. Andrews
Roosevelt Campobello International Park, Welshpool
Nova Scotia / Nouvelle-Écosse
Annapolis Royal Historic Gardens, Annapolis Royal
Annapolis Royal House & Garden Tour and Rare & Unusual Plant Sale events, Annapolis Royal
Oceanview Home and Garden, Chester
Cole Harbour Heritage Farm Museum Gardens, Cole Harbour
Tangled Garden, Grand Pré
Common Roots Urban Farm – Partners for Care, Halifax
Halifax Public Gardens, Halifax
Acacia Grove/Prescott House Gardens Starr's Point, Starr's Point
Dalhousie University – Truro Campus Rock Garden, Truro
Prince Edward Island / Ile-du-Prince-Édouard
The Dunes Studio Gallery Gardens, Brackley Beach
Confederation Landing, Charlottetown
Government House – Gardens, Charlottetown
Vesey's Trial Gardens, Charlottetown
A.A. MacDonald Memorial Gardens, Georgetown
Newfoundland / Terre-Neuve
Pink Days in Bloom – Garden-Themed Breast Cancer Research FUNdraising Events, Mount Pearl
Bannerman Park, St. John's
Bowring Park, St. John's
MUN Botanical Garden, St. John's
MUN Botanical Garden – Merry & Bright Holiday Light Festival, St. John's
MUN Botanical Garden, Friends of the Garden & Newfoundland Horticultural Society – Mystery Garden Tour, St. John's
The Canadian Garden Council initiative for the "Canada 150 Garden Experience" is supported by Enterprise Canada and ZRB & Associates. For more information visit Canada's Garden Route. The website is being revamped to better present a wide selection of garden experiences.
The Canadian Garden Council is the national association for provincial and national garden organizations. Its vision is to champion the garden experience sector's contributions to the well-being of Canadians, the sustainability of our communities and to promote the joys and benefits of gardens, landscapes and green infrastructure.