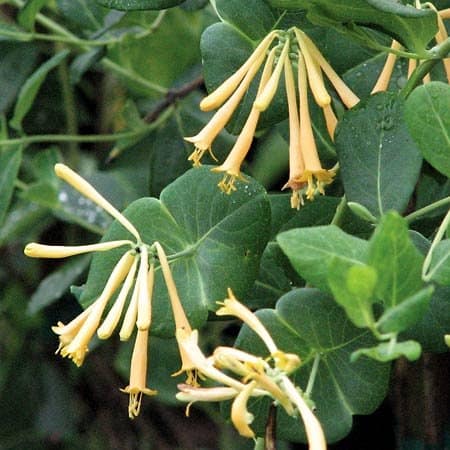 In the renovation process of some key garden areas, I ripped out my best honeysuckle vines. While I realized this at the time, I failed to replace them and I'll be missing their sweet scent this spring and early summer. My long-time favourite has been 'Gold Flame' (Lonicera x heckrottii 'Gold Flame', syn. 'American Beauty', Zone 6), with round blue-green foliage and large deep pink buds opening to reveal yellow inner throats. And, of course, the flowers have a lovely sweet fragrance. It gave me so much pleasure, and now I've learned a sharp lesson — remove in haste, repent at leisure.
I'm also missing 'Mandarin' (L. 'Mandarin', Zone 4) from the University of British Columbia breeding program. It has soft orange flowers with yellow centres, and again, a sweet scent. This vine had lots of long-lasting flowers, and looked like a perpetually swarming flock of orange butterflies when it was in full bloom. Fortunately, I still have my rare gem, the Italian woodbine, sometimes called perfoliate honeysuckle (L. caprifolium, Zone 6), which I grew from seed obtained from the Ontario Rock Garden and Hardy Plant Society (onrockgarden.com). It's a smaller vine, growing only about 10 feet (3 m), with pink flushed buds opening to creamy white flowers; it blooms a month earlier than other honeysuckles. I've never seen it for sale, but occasionally seed pops up on some list, and it's well worth growing.
I'll need to install more support structures, because there are an increasing number of honeysuckle vines I'd like to have. I noticed 'Major Wheeler' (L. sempervirens 'Major Wheeler', Zone 5), which is covered in brilliant red trumpet flowers all summer — a real hummingbird magnet. It grows to 10 feet (3 m) and may not have the deep perfume of others. Another continuous bloomer and hummingbird favourite is 'Dropmore Scarlet' (L. x brownii, Zone 4), with vivid scarlet flowers, but alas, little scent. For smaller spaces, 'John Clayton' (L. sempervirens f. sulphurea 'John Clayton', Zone 5), with crimson buds opening to fragrant yellow and white flowers, grows to only six feet (180 cm). 'John Clayton' could easily live in a large container fitted out with a small obelisk or other simple support.
In my experience, hybrid honeysuckle vines are every bit as useful as clematis vines, and have their own desirable features. The flowers are lovely, and the perfumed cultivars are always appreciated. Honeysuckle is tolerant of average garden soil, and one fertilizer application in early spring will ensure generous bursts of flowers. Most will flower for eight weeks in late spring through midsummer, and some will continue for up to 12 weeks.
Clematis and honeysuckle vines are comparable in size, running and twining less than 20 feet (6 m). Both are circular twining vines requiring a light trellis or arbour, and there's little danger of them getting away from you. One difference is that honeysuckles have permanent woody stems that remain on their support, unlike many clematis vines that need cutting back each year. Light pruning every third year is sufficient to thin honeysuckles and keep them neatly on their supports. Most perform appreciably in part shade, although they will make more flowers in bright light locations.
Now that I'm down to only one honeysuckle vine, it's time to get out and be competitive in the garden centres. There is usually a good selection of honeysuckle vines for sale in late April, before they get into their major growing spurt, and I'll grab some later this month. Unless you get there first.