What happens to my Garden Making magazine subscription?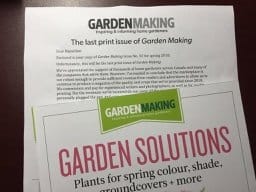 People with subscriptions to Garden Making magazine received a letter announcing that issue No. 32 is the final magazine issue.
If issue No. 32 happens to be the last issue in your subscription, then that completes our service.
If you have issues remaining in your subscription, they will transfer to The Gardener magazine (see below). Or, you can use issue credits to claim back issues of the magazine. View available print issues at shop.gardenmaking.com.  To request back issues, send an email with your account number to service@gardenmaking.com or use the special discount code on the shop checkout page.
We review the issue claim orders and fulfil them as soon as possible for eligible subscribers.  Supplies of issues are limited, so it's best not to wait. Please make any claims by April 30, 2018.
Email me status of my subscription
---
Transfer to The Gardener magazine
We have arranged to transfer Garden Making subscriptions to another gardening magazine in Canada called The Gardener for Canadian Climates.
Published since 1995, The Gardener magazine offers 4 issues per year (winter, spring, summer and fall). Their claim to fame, in their words, is: "The Gardener is recognized as the best horticultural magazine for hardy Canadian growing conditions. Every issue contains expert gardening information to overcome the challenges of gardening in a climate with short growing seasons, difficult winters and unpredictable precipitation."
We are asking The Gardener to send a copy of their June 2018 issue to all subscribers who received a copy of Garden Making No. 32.
If a Garden Making subscriber decides not to claim Issue Credits by April 30, the remainder of the subscription will be transferred to The Gardener and they will fulfil the balance of the subscription.
"I hope that you would be willing to give The Gardener a try," says Garden Making publisher Michael Fox. "It is sad for me to close the print edition of Garden Making after everyone's hard work and investment in creating and sustaining the magazine. But I know that many of us prefer print magazines, so I'm trying to help grow The Gardener to ensure that Canada has a magazine for home gardeners."
You can get more information about The Gardener at www.gardenermagazine.ca.
If you would prefer that we not pass your personal information to The Gardener, please send an email to service@gardenmaking.com with your name and address.
---
The last print issue
Garden Making announced Feb. 26, 2018, that the spring 2018 issue, #32, with Garden Solutions on the cover, will be the last print issue of the magazine. Read article: Garden Making #32 will be last print issue
We published four issues a year from 2010 to 2016 (in February, May, August and November), three issues in 2017 (February, May, August), and the last print issue in March 2018.
We encourage you to buy a single copy